Who are we?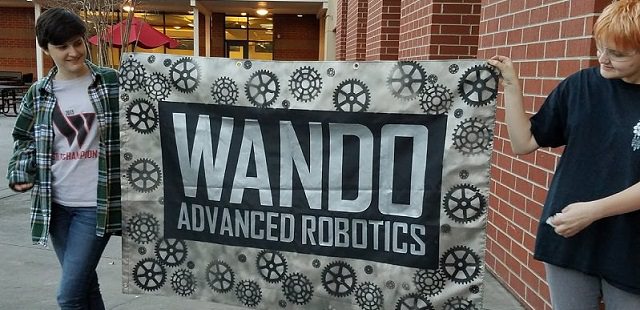 Team 4533, Wando Advanced Robotics, is a FIRST® team located in Mount Pleasant, South Carolina. With inspiring students from Wando High School and Academic Magnet, members of Team 4533 participate in the yearly FIRST® Robotics Competition. Through the programming, build, CAD, and imagery team, Wando Robotics members engage in FIRST Robotics Competitions (FRC) and promote the values of FIRST® robotics.

Our History
WAR made its debut in 2013 in the game Ultimate Ascent. 4533 particpated at the Palmetto Reigonal and SCRRIW the 2013 season. In 2014, WAR created Yoga-Bot for Areial Assist. Yoga-Bot was an effecient bot with a well-designed autonomous and the ability to shoot into the highest goal. This allowed WAR to be part of the semifinalist alliance at South Florida. Next season, WAR was the 3rd seed captain at the North Carolina Reigonal. The 2015 bot, BAE, had the ability to stack 5-6 totes from the shupe. During the 2017 Steamworks season WAR won the Imagery Award at the Palmetto Reigonal and placed 9th seed at the Smokey Mountains Reigonal. WAR's most recent season, FIRST Power Up, was the most successful season yet for the team. At Rocket City WAR was the 6th seed captain and recieved the Quality Award. At South Florida WAR was the 3rd seed captain and had an OPR of 190, the second highest at the competition.

Our Github
Get a look at what our proramming team is working on and our finished projects for your own guidance!
Go to Github
Please do not merely copy our code. Our students have worked hard on these projects. Instead, ues it as a mere guide.